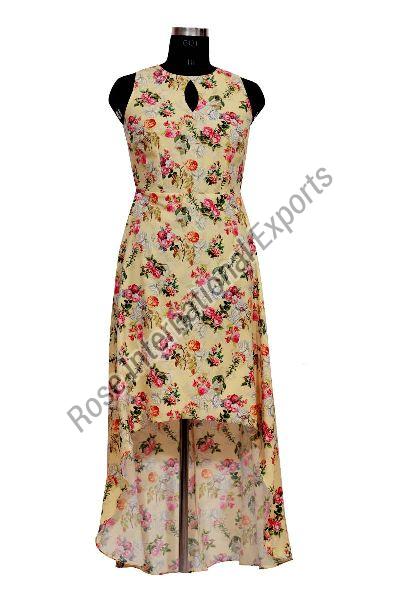 Find a well known sleeveless Kurti exporter in India from whom you can get yourself some amazing sleeveless kurtis which you can easily opt for during the hot summer months. Going for sleeveless Kurti is one of the most comfortable and stylish looks which one can carry in a hot and sweaty summer month. Kurti is one such attire that any woman can rock. Every woman tends to wear a Kurti on more than just one occasion. This piece of clothing is so versatile that it can be worn for several occasions without being too much or too simple. You can wear a sleeveless Kurti both indoors and outdoors.

For summers you can go for breathable and comfortable fabrics like cotton voile, cotton linen, cotton cambric. Going for a stylish sleeveless Kurti would keep you even more relaxed and cool.

Here are some of the different ways in which you can style a sleeveless Kurti –

• Printed Sleeveless Kurti –

Vibrant prints can instantly lift your look and completely change your style. Wearing a printed Sleeveless Kurti can make you look highlighted. You can go for a simple shirt collar Kurti which has yellow or any bright coloured prints which a subtle or even subdued background.
A sleeveless Kurti of rayon material can be easily paired up with a pair of blue jeans or even neutral coloured leggings. And finally, you can top it up with juttis and some minimal jewellery altogether it will create an elegant ensemble.

• Black AnarkaliSleeveless Kurti –

You can go for a black Anarkali if you are searching for something which you can wear for an occasion and also be comfortable in the hot summer months. A black Anarkali is occasion appropriate.

If you have a family function where you need to look festive but also don't want to be uncomfortable in summers, then you can opt for a comfortable black Anarkalisleeveless Kurti which has simple sequin, embroidery, or net design made on it. That way your Kurti will look festive along with being comfortable. You can also go for a Kurti which has a fabric that doesn't wrinkle easily, has some intricate carvings and designs along with being sleeveless. This way, your Kurti will be perfect for any small function or any pujas at home.

• Red ChikankariSleeveless Kurti –

Red is a colour that instantly lifts your look. Anyone wearing red just instantly becomes the highlight of any function. Because red is a very eye-catching colour it makes you look vibrant and dynamic. A heavy worked chikankari red sleeveless Kurti can easily make you look the best in the lot.
This style makes you look spectacular in any daytime event. Crafted in a soft and comfortable fabric a long length red sleeveless Kurti with heavy chikankari work laired with leggings or palazzos will make you look divine.
Make sure this Kurti has overall work done on it which will make the Kurti perfect for a puja, function, or any event.
You can style a red chikankari sleeveless Kurti by accessorising it with pearl chandbalis and bangles. Try to keep the makeup subtle, and let your Kurti be the center of attention. Pair it up with heels or sandals and carry a blingy clutch or a sling bag along with it.

• Yellow Mirror Work Sleeveless Kurti –
Yellow is a perfect colour for the summertime if you have a special event coming up, and you don't know what to wear for that event then try to play safe and get yourself a gorgeous mirror work done short length yellow sleeveless Kurti.
Try to search for a renowned and well-reputed sleeveless Kurti exporter in India from whom you can buy yourself a gorgeously done mirror work Kurti which you can flaunt at any special festive event.
A yellow coloured, short length, body-hugging, mirror work done sleeveless Kurti will look perfect on any Indian festivity or ceremony. You can pair it up with a skirt, Patiala, sharara and it will look fabulous.

Finally, in makeup, you can do some kohl eyes or wear dark lipstick which would complement your attire.
These were some of the different ways in which you can style your sleeveless Kurti in summers. You can choose your attire and then style it according to the occasion to get a comfortable and vogue look.